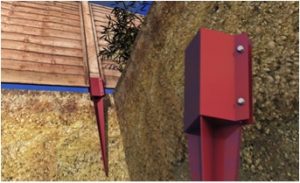 There is nothing more satisfying than creating a garden fence that is strong, sturdy and which looks good. So, if your existing fence is looking a bit worse for wear, held up by bits of string or propped with timber, or you simply need a new fence, then here's how to sort it out once and for all.
Before beginning your fencing project it is always best to plan in advance and source from a supplier that is going to make the job easier for you. A good starting point, and one that avoids the expense and hassle of a concrete base, is using Drive-in Post Spikes. Aside from avoiding the cost and hard work of creating a concrete base, they make the erection of fencing as well as gazebos, pergolas and other garden structures quick and easy.
There is a great range of post spikes called PowaPost® – they give you a really strong anchorage for timber posts. When it comes to post spikes it's definitely worth choosing quality because if you don't they soon start to rust and look unsightly. A sure sign that it is a good quality drive-in fence post spike is when it's manufactured from heavy duty mild steel with dual coated corrosion protection. A good quality steel post spike should be electro zinc plated and then have a moisture resistant powder coating, which results in a superior protection against rust. Hot Dipped Galvanised post supports are also available for an extra durable finish.
The great thing about drive-in post spikes is that they can be used in a wide variety of ground types. For instance, if you have stony ground, such as old, broken foundations, a steel fence spike is a really effective way of establishing a strong support for timber posts. Try and drive a timber stake through this kind of ground with a large hammer and you'll soon splinter it beyond use. Digging a hole isn't really an option, either, as it can be hard work and you end up with a large hole requiring lots of concrete!
Once in the ground, metal post spikes protect the timber from water, fungal attack and insect damage. That means your fence will last longer. Where post spikes aren't used, the timber section of the post below ground level tends to rot quickly, especially if the soil is wet, causing them to break off eventually.
Good quality steel knock-in fence post spikes are suitable for most ground conditions. All you have to do is drive them into the ground, which is even easier if you choose a range like PowaPost®, which has a special driving tool. Once you've driven-in the metal spikes, the timber posts can be fixed by either twin bolts or EasyGrip design for a strong connection. The EasyGrip design holds the timber post in a tight wedge without the need for fixings, whereas the Twin Bolt arrangement mechanically tightens around the post allowing easy removal of damaged or rotten posts.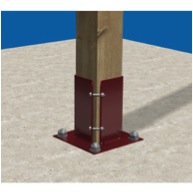 If your fence crosses over an existing hard surface such as a concrete, paving stones or tarmac, there are steel post anchors available with a flat base that can be bolted securely, creating the same effect as driving the post spike into the ground. Take a look at PowaPost® Bolt Down Shoe, which is designed for use when posts are required to be installed on these kinds of hard surfaces.
Most drive-in post spikes are available with a range of accessories. So, if you need a repair spike (where an existing timber post has broken) or post extender (allows you to easily add decorative panels and trellis), check that your supplier offers it as part of the range before ordering.
Before beginning any work on boundary fences, it's worth checking who owns it (if there is an existing dilapidated fence, the general rule is if the posts are on your side of the boundary, the fence is yours). However, it is best to check your deeds first or have a friendly chat with your neighbours before you start any work!
When it comes to choosing the fencing material there are a number of different types. The most readily available are larch shiplap panels, which are available (along with the Powapost® range) from your local builders merchants and many online tool and fixings retailers. Other types of fence materials include hazel or willow hurdles, shiplap cedar and trellising.
The golden rule is; Fences can take up a lot of space in the garden and block our light, so it is worth spending time planning exactly what you want from it – before you begin!