Here Gareth Simister, Managing Director at BPC Building Products, looks at how mechanical stitching systems provide a cost effective and permanent method of repairing cracked masonry walls, avoiding the expense of a complete rebuild.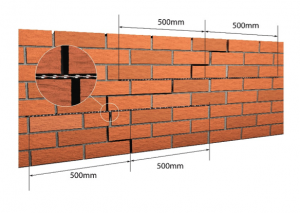 Until relatively recently a commonly used method to repair masonry cracks was to place mortar or grout without any other support directly into the fissure. Sealant was sometimes used as well and again injected into the crack before sand was applied on to the top of the uncured sealant to give it the appearance of mortar. Typically, these methods proved unreliable over the long term as the mortar, grout or sealant didn't accommodate for any further movement across the crack – principally because it was not mechanically supported.
Before making any crack repair it's important to identify the cause of the crack as this can influence any further repair action you take. Failure to do this may cause more cracks to develop in the future. A study recently carried out by BRE (Building Research Establishment), highlighted a way of categorising different masonry cracks. Six different categories were identified with all but one category requiring some form of remedial action. The categories are:
Hairline cracks
Fine cracks
Cracks easily filled
Cracks that require some opening up and can be patched.
Extensive damage which requires replacing sections of walls.
Structural damage that requires partial or complete rebuilding.
All these masonry cracks can occur for a number of reasons. One of the most common causes is ground movement, due to settlement of new foundations. Changes beneath the foundations of any building can cause it to move slightly which can result in cracks developing. Other common causes include temperature influence, damp, wind loads, fractured masonry, lack of foundation, lowering of ground water, imbalanced building grounds, road traffic vibration, air traffic, damaged drains and proximity of trees to the building.
Latest methods of remediating masonry cracks involve mechanically stitching the area, combined with a special grout that locks everything in place. A great example of this is PowaTwist™, which consists of stainless steel bars and a special grout. The stainless steel helical-design of the bars used with these kinds of systems provides greater effectiveness in tackling cracks because it distributes the load over the entire length, avoiding load and tension concentrations. When choosing a stitching system like this it's always worth making sure that the bars are made from stainless steel as that means they are suitable for aggressive environments. The grout can be injected with an applicator gun and completely fills all voids before rapidly developing its compressive strength.
The best way of stabilising cracked masonry is to use a mechanical stitching system because it redistributes tensile loads along the masonry. This eliminates further development of the crack which may occur if a simple injection system is used. So, if you want to get on top of masonry cracks and avoid a complete rebuild, it's worth looking at crack stitching systems.