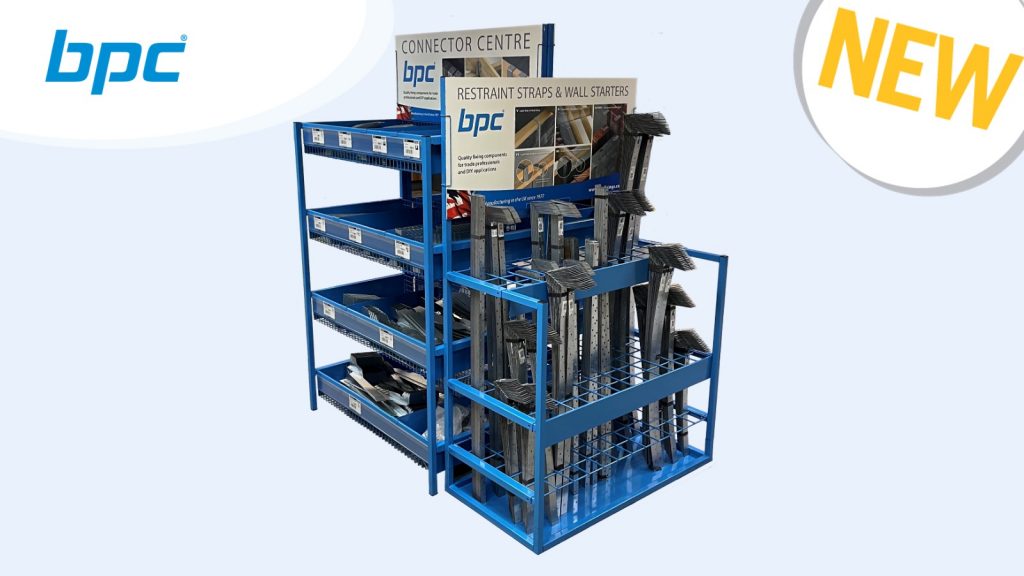 BPC, a leading manufacturer of Builders' Metalwork, has launched its latest retail display stands called the "Connector Centre", which is designed to showcase their complete range of products.. These display stands are designed specifically for their range of Builders' Metalwork, including Joist Hangers, Restraint Straps, Angle Brackets, and many more.
The bespoke design of the Connector Centre ensures that your fast-moving stock items are safely displayed for customers to browse. The display stands come with eye-catching header cards and powder-coated colour frames, creating an attractive and professional look.
The Connector Centre is constructed with a sturdy steel frame, making it both durable and long-lasting. What's more, it's quick and easy to build from a flat-pack, thanks to the included instruction leaflet.
As an added bonus, BPC is offering to supply the Connector Centre "free of charge on loan" with your first order (subject to an agreed initial stock order). Additionally, BPC has point-of-sale banners and window stickers available to further enhance your in-store display.
The Connector Centre is available in multiple stock range options to suit the requirements of Timber Merchants, Builders Merchants, DIY Retailers, Tool & Fixings Distributors. To learn more about the Connector Centre, contact BPC at 01924 364794 or email sales@bpcfixings.com.